COVID-19: IPPT RECEIVES DONATION OF PPE AND FACE SHIELDS FROM WESTERN DIGITAL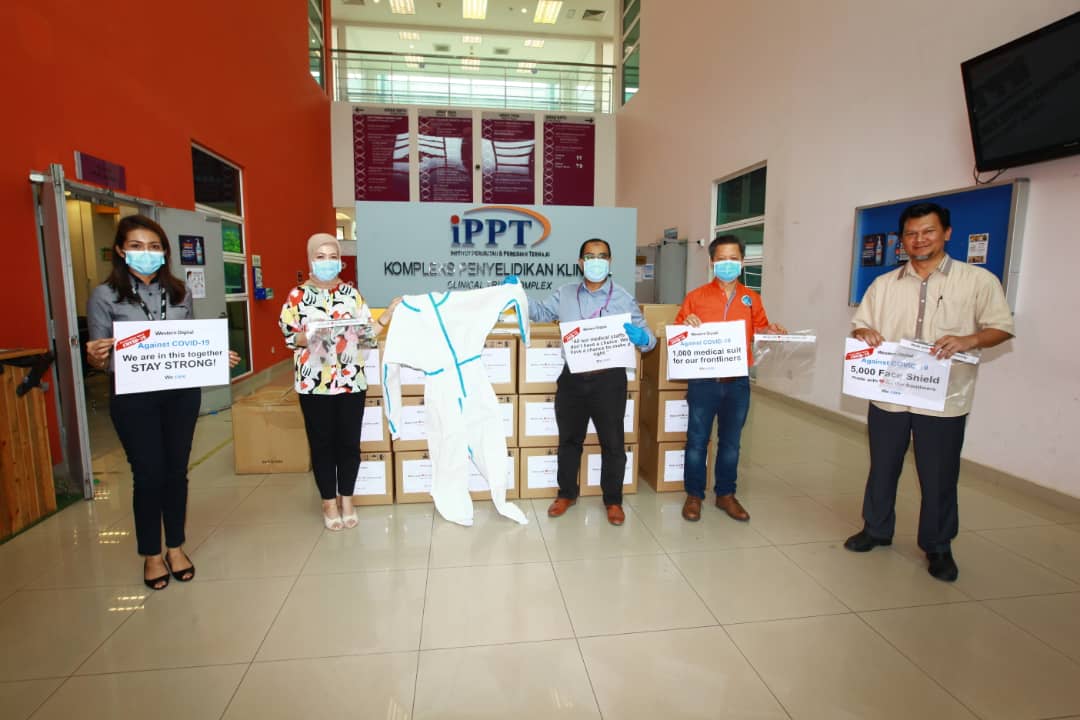 BERTAM, 30 April 2020 – The Universiti Sains Malaysia (USM) Advanced Medical and Dental Institute (IPPT) recently received a donation comprising of personal protective equipment (PPE) and face shields from Western Digital (Malaysia) Sdn. Bhd.
The Director of IPPT, Professor Dr. Syed Azhar Syed Sulaiman said the contribution was timely as many health facilities across the country are now facing a shortage of PPE supplies, and what is more important, this supply will help to supplement the stock that IPPT has for its frontline personnel.
"The contribution is greatly appreciated by all of us at IPPT as it would help to protect and keep them safe from the COVID-19 infection.
"We are grateful to Western Digital for contributing some 1,000 units of PPE and 5,000 face shields for our frontliners," he said after receiving the items on behalf of IPPT at Kompleks Klinikal here.
Western Digital (Malaysia) Sdn. Bhd. was represented by its Vice-President, Mr. KL Bock who delivered the items personally to IPPT.
"It is a joint responsibility to assist IPPT in its efforts to curb the spread of the COVID-19 outbreak and it is hoped that the contribution will help to address the problem of a shortage of PPE and face shield, as these are essential disposable items that are used daily," he said.
Also present were the IPPT Deputy Director (Research and Networking), Dr. Hasni Arsad; IPPT Family Medicine Specialist (FMS), Dr. Mastura Mohd Sopian; and Western Digital Business Excellence Manager, Noor Shafarina Mhd Hidzir.
For the record, Western Digital (M) Sdn. Bhd. through its WD Caring Foundation (WDCF) programme, has contributed RM12,000 worth of medical support equipment to IPPT in 2014.
WDCF is one of WD's Corporate Social Responsibility (CSR) programmes, supported by its staff from various position levels in the organisation.
As announced by the Ministry of Health Malaysia (MOH), IPPT USM has been listed as among the ten selected laboratories at public universities (UA) nationwide to conduct COVID-19 diagnostic tests.
Text: Nabella Ridhuan Lau / Photo: Norizan Ishak