AMDI USM REACHED THE COMMUNITY, MORE THAN 800 PARTICIPATED IN BREAST CANCER AWARENESS CAMPAIGN "PINK OCTOBER"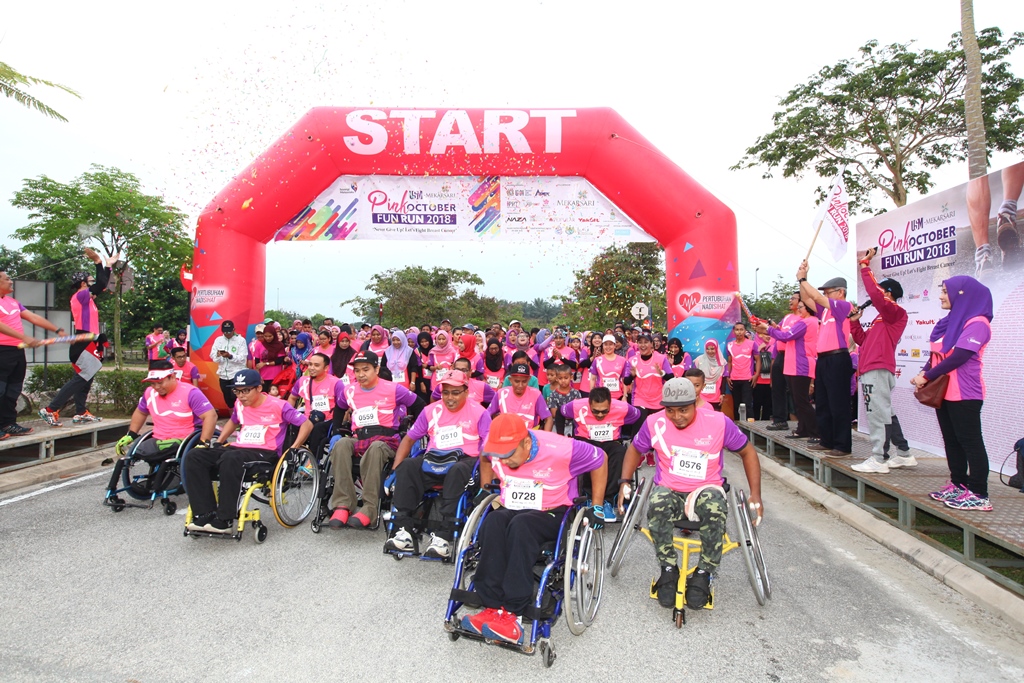 BERTAM, October 6, 2018 – More than 800 participants took part in the USM-Mekarsari Pink October Fun Run 2018 by Advanced Medical and Dental Institute (AMDI) in collaboration with Nadi Sihat Organization and National Cancer Council Malaysia (MAKNA) to support the fight against breast cancer.

The five-kilometer run and the inauguration of the Breast Cancer Awareness Campaign was officiated by Deputy Chief Minister 1 of Penang, YB. Dato' Ir. Hj. Ahmad Zakiyuddin Abdul Rahman, here this morning.

According to him, the Assemblyman of Pinang Tunggal, the program today will impact the people in Kepala Batas and the surrounding areas by providing exposure and raising awareness about breast cancer.
When opening the program, he said that "Through this awareness program, it is clear that higher education institutions in this country, such as USM, are always committed to approaches that help improve the health of the people through the transfer of knowledge and expertise sharing, regardless of race and political affiliation." .

Meanwhile, the Dean of the School of Social Sciences USM who was representing USM Vice Chancellor, Professor Dr. Azlinda Azman, said that since the founding of AMDI in 2002, more than 5,000 breast cancer patients have been treated at the Oncology Clinic, and the number is increasing annually.
"It is therefore imperative for AMDI USM to hold ongoing campaigns and programs to educate and raise public awareness on the importance of self-care, healthy eating habits, breasts self-examination and routine checks from time to time," she said.

According to the Program Director, Dr. Muhamad Yusri Musa, he was very grateful that the event which was organized for the first time, involved various parties including corporate companies, government bodies and NGOs from the state of Penang.

"This morning we are able to gather more than 800 participants from all over the country to enliven this run. It has been very encouraging to us and we intend to make it an annual event," he said.

The 'Pink October' Breast Cancer Awareness Campaign is aimed at promoting community awareness about breast cancer and called on members of the community to provide moral support to cancer patients and their families.


The "Solidary Walk" which was held to symbolize the support to breast cancer patients, included 70 recovered cancer patients, including 16 wheelchair-assisted persons.

The program was attended by the National Women Solo Runner, Honorary Major Suwaibah Mohd. Nasir, who was also participated in the run and the Solidarity Walk.

The Director of AMDI USM, Dr. Norehan Mokhtar; Nadi Sihat Organization President, Azlina Abdul Aziz; Assistant Sales & Marketing Manager of Bandar Kepala Batas Sdn. Bhd., Faizal Abdul Rahman; and Director of USM Sejahtera Center, Dr. Normala Abdul Wahid were also present at the event.