AMDI MEMBERS AMONG THE RECIPIENTS OF SPECIAL AWARD MAAL HIJRAH USM 1440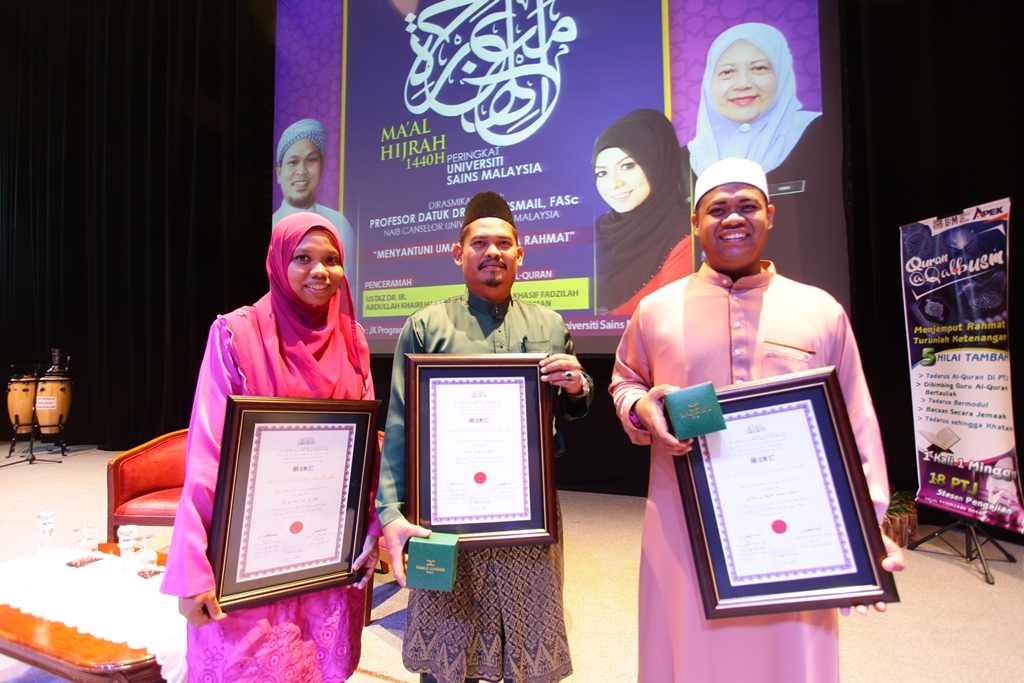 PENANG, September 20, 2018 – Three staff of Advanced Medical and Dental Institute, USM received a special award in conjunction with the Maal Hijrah 1440 celebration of Universiti Sains Malaysia. The program themed "Helping the People, Bring the Blessing" was held at the Cultural Hall here today.
The recipients are Mr Zabri Zainol, Driver, Mr Mohd Hafiz Ramlai, Assistant of Food Grade Assistant and Miss Nur Liana Abu Bakar, Nurse.
One of the recipients, Mr Mohd Hafiz Ramlai expressed gratitude when receiving the award.
"This award is would not be possible without the support and sacrifice from my wife, children, and all AMDI members. I feel grateful because this is a team effort," he said after the ceremony.
Mr Zambri Zainol, thanked USM Islamic Center for giving this award.
He said "I feel so grateful, touched and happy for this award. I hope that this award will encourage other staff to continue being enthusiastic in supporting the religious activities organized by the Islamic Center. "
The award was presented by USM Vice-Chancellor, Prof Datuk Dr. Asma Ismail FASc. 14 other recipients from various departments in USM also received the same award.
This award was presented to recipients who were involved with organizing and helping out at events organized by the USM Islamic Center. Prof. Azazi Zakaria, Director of Campus Engineering, Dr. Musa Ali, the Registrar and the heads of departments were also at the event.
There was also a Maal Hijrah talk by Ustaz Dr. Ir. Abdullah Khairi Hj Haron and the recitation of the Holy Quran by Ustazah Sharifah Khasif Fadzillah Syed Badiuzzaman.