USM EMPOWERS EFFORT TO IMPROVE SENIOR CITIZENS' HEALTH CARE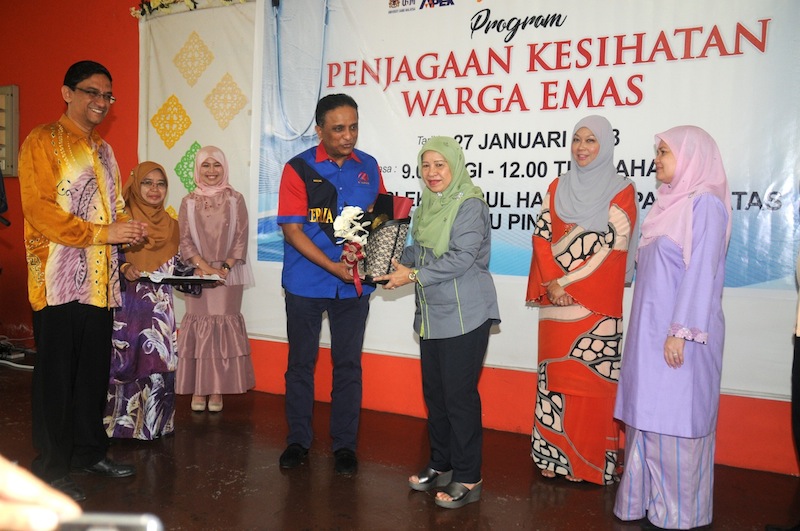 KEPALA BATAS, January 27, 2018 - The government will continue paying serious attention to efforts in raising public awareness and concern for senior citizens, especially in the health care aspect.
According to the Deputy Minister of Foreign Affairs who is also the Member of Parliament of Kepala Batas, YB Dato' Sri Reezal Merican Naina Merican, the welfare and well-being of the elderly must be taken care of and shared by every community as well as the government and private sectors in the country.
"Senior citizens are one of the most valued national assets and require more attention compared to the the fit and healthy groups, especially since the number of senior citizens is increasing in the country."
"Therefore, senior citizens should be provided with equal rights, opportunities and access in the society, so that they do not feel excluded and are able to contribute to the socio-economic development of the country."
He expressed this sentiment when officiating the University-Community Collaboration Project: Empowering Senior Citizens at Darul Hanan Complex, Penang's Muslim Senior Citizen Home here this morning, organized by Universiti Sains Malaysia (USM) through the Advanced Medical and Dental Institute (AMDI), Division of Industry and Community Network (DICN) in collaboration with Darul Hanan Senior Citizen Complex, National Cancer Council (MAKNA), Welfare Department, Penang and Senior Citizen Club, Kepala Batas.
Reezal Merican also complimented USM's genuine effort in helping improve patients' level of care and health of the residents at Darul Hanan Complex, and hopes that AMDI and the various institutions around Kepala Batas will continue contributing and supporting the surrounding communities.
The project, which began in November 2017, is aimed at improving the quality of health care of the residents at Darul Hanan Complex through the transfer of knowledge and training by staff from AMDI..
The training provided covers the scopes of diet, patient rehabilitation, oral health care and nursing and will be carried out for another 6 months.
Among the activities that were implemented include elderly health care involving the care of bedridden patients, rehabilitation, balanced diet, health talks and oral health.
One of the residents of Darul Hanan, Mansoor Viyat Shah, 71, said, "I welcome the program and support the efforts of organizing activities that improve the health of the community here. I gain plenty of benefits especially through the exercise routines performed.''
For Fatimah Zain, 76, she is deeply appreciative of the remarkably meaningful effort by USM. With a health check conducted by USM staff, she and other residents here can be informed about their health status.
In the officiation ceremony, AMDI also presented donations of medical support equipment to Darul Hanan Complex to be used by the elderly in their physiotherapy training.
Also present at the event was the Acting Vice-Chancellor of USM, who is also the Deputy Vice-Chancellor (Industry and Community Network), Professor Ir. Dr. Abdul Rahman Mohamed; the Chairman of Darul Hanan, Penang's Muslim Senior Citizen Home, YB Dato 'Hajah Jahara Hamid; the Director of IPPT, Dr. Norehan Mokhtar; the Program Leader, Dr. Mastura Mohd Sopian and members of the Darul Hanan Committee.