EDUVARIOME RAISES THALASSEMIA AWARENESS AMONG STUDENTS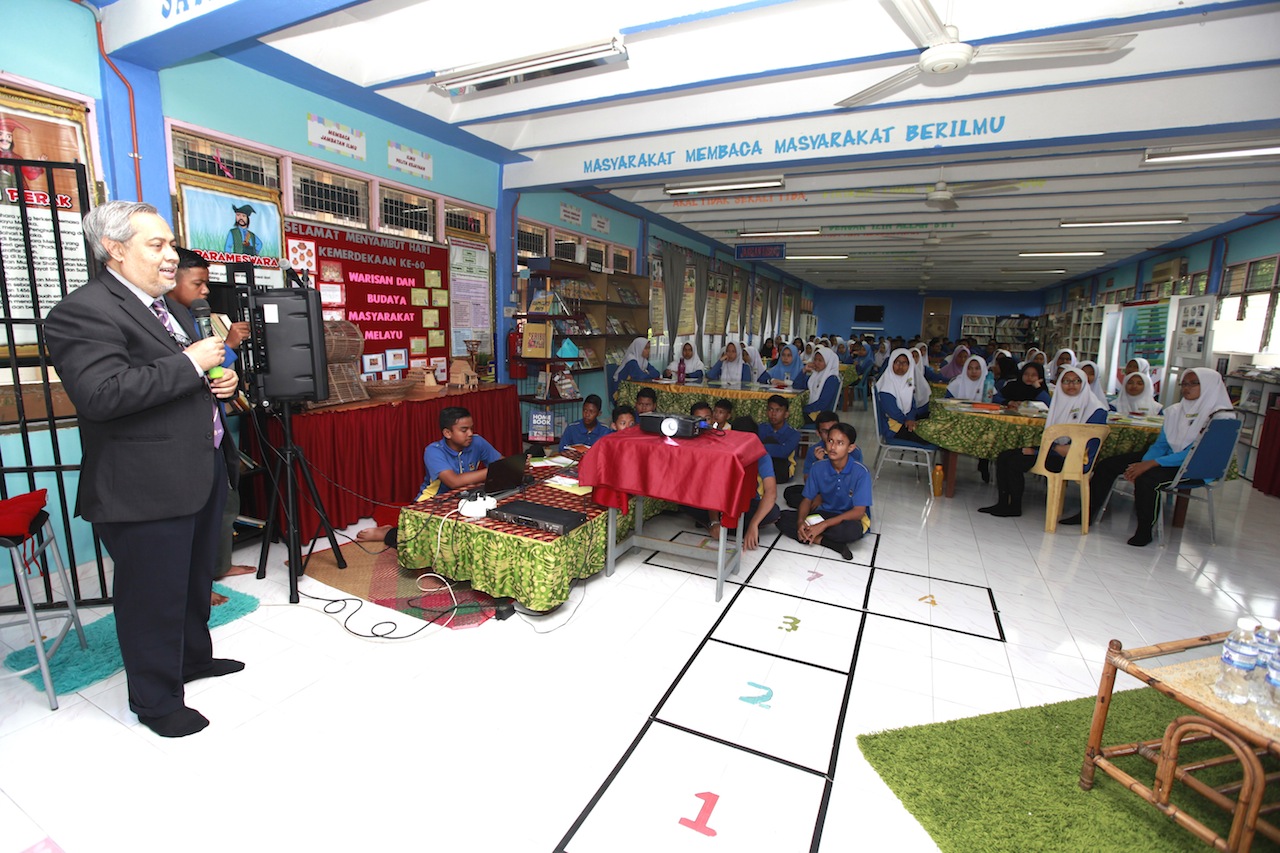 KEPALA BATAS, October 26, 2017 – Advanced Medical and Dental Institute (AMDI), Universiti Sains Malaysia (USM) collaborates with Malaysian Node of the Human Project (MyHVP) under UNESCO in the Eduvariome Project held at Sekolah Menengah Kebangsaan Datuk Haji Ahmad Badawi here today.
The Eduvariome Project is a knowledge-sharing program that spreads awareness to secondary school students regarding thalassemia. With the theme 'Towards Zero Thalassemia', the half-day program saw attendance of 150 Form Three (3) students.
According to MyHVP Director, Prof. Dr. Zilfalil Alwi, public awareness and knowledge of this blood disorder needs to be improved over time.
"We take this opportunity to organize this thalassemia awareness program to improve public understanding of the disease, especially secondary school students," he said.
"With the implementation of this program, students will gain knowledge on the importance of genetic screening in an effort to raise public awareness about thalassemia," he added in his speech during the program launching.
Prof Dr Zilfalil also strongly encouraged thalassemia screening tests for those who have reached age 16 towards efforts in decreasing this disorder in Malaysia.
In the program, a forum was also held which was participated by Dr. Choo Chong Ming, Head of Paediatric Department of Sultan Abdul Halim Hospital, Sungai Petani, Kedah, Mrs. Noorasyikin Md Saad, President of Thalasemia Association, Penang, as well as Prof. Madya Dr. Badrul Yahaya and Dr. Abdul Rahim Hussein from AMDI.
Thalassemia is a genetic or hereditary disease where a child inherits thalassemia gene from his or her parents. It is not an infectious disease, whereby it cannot be transmitted through blood, air and water or through physical and sexual contact with thalassemia patients. The risk of having the disease is similar for both genders.
One in twenty (20) Malaysians is a thalassemia gene carrier. In Malaysia, there are 600,000 to 1 million thalassemia carriers and approximately 2500 thalassemia major patients. Most of the patients are Malay, Chinese and Bumiputras of Sabah. Thalassemia major patients may need blood transfusion throughout life.

Also present at the program were AMDI's Deputy Director of Research and Innovation, Prof. Dr. Narazah Mohd Yusoff, who is also the Advisor for AMDI's Eduvariome Project for AMDI and the Senior Assistant of Student Affairs, SMK Datuk Haji Ahmad Badawi, Mr Mohd Nazir Othman.