SEMINAR ON "STANDARDISATION OF HERBS AND HALAL RESEARCH INCLUDING PHARMACEUTICAL"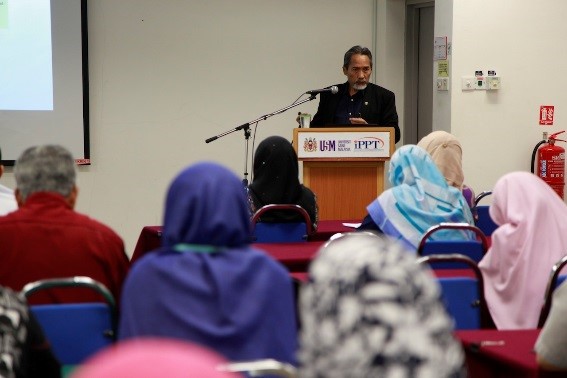 BERTAM, 17th October 2017 - Bahagian Penyelidikan dan Jaringan (BPJ) together with Intergrative Medicine Cluster hosted a one-day seminar on "Standardisation of Herbs and Halal Research including Pharmaceuticals" at Animal Research Centre (ARC), Advanced Medical and Dental Institute (AMDI).
The seminar was attended by about 55 staffs and students from various schools in USM which include Analytical Biochemistry Research Centre, Schools of Pharmaceutical Sciences, Applied Sciences, Chemical Sciences and Industrial Technology besides staffs and students from AMDI. The purpose of the seminar was to articulate the knowledge on the standardisation of herbs and Halal research including pharmaceuticals.
The seminar was officiated by the Director of AMDI, Dr Norehan Mokhtar. Professor Dr Narazah Mohd Yusoff, the Deputy Director of Research and Networking, AMDI also attended the seminar.
Professor Dr. Zhari Ismail, renowned in this area, was invited as a speaker. He has been sharing his knowledge and experience regarding standardisation of herbs and halal research locally and internationally. The seminar began with an introductory session about good agricultural practice (GAP), good clinical practice (GCP) and good manufacturing practices (GMP). These procedures need to be practiced religiously in order to achieve quality, safety and efficacy.
In addition, quality and quantification parameters of complex mixtures need to develop an innovative means of standardizing plant extracts. In the second session, the speaker elaborated on the halal research including pharmaceuticals. Halal research requires thorough assessments throughout the origin of all known compounds which is a "built in" process. A concerted effort amongst individuals and experts is vital in the process of conducting halal research as well as in producing halal products.
The seminar ended with a question and answer session to which queries were resolved and answered by the distinguished speaker. Professor Dr. Zhari Ismail also conferred several books and monographs including an "Index of Malaysian Medicinal Plants" and "The Halal Index", which were authored by himself, to the Director of AMDI, as a future reference and guidelines.
Overall, the participants found the seminar was well-structured, comprehensive, rich in content and useful. The seminar provided an excellent opportunity to learn from and exchange experiences with the speaker. The participants evaluated the workshop highly in terms of content and lectures were considered informative.