AMDI LAUNCHES LABORATORY SAFETY RULES AND REGULATIONS MANUAL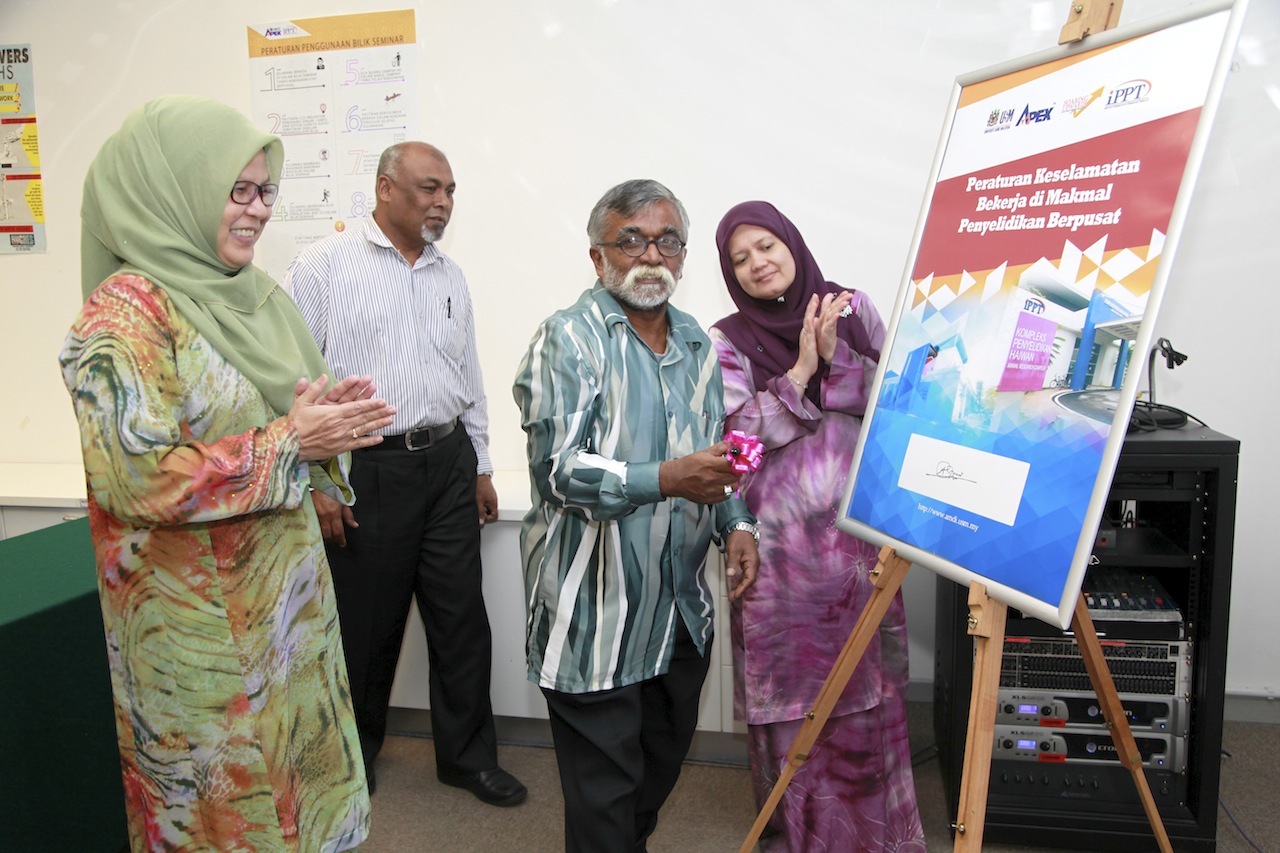 BERTAM, August 17, 2017 – Workplace safety is a very important thing and needs to be emphasized. This is in line with the Occupational Safety and Health Act 1994 (Act 514).
Knowing the importance of safety in the workplace, The Centralized Research Laboratory Section (CRL), Advanced Medical and Dental Institute (AMDI), Universiti Sains Malaysia (USM) took the initiative to publish a Laboratory Safety Rules and Regulations Manual which aims to provide guidance and reduce accident risk while working.
For the first time, this manual was published by the CRL in collaboration with all research laboratories at AMDI.
AMDI Director, Dr. Norehan Mokhtar expressed her gratitude for the effort given to publish this manual.
"I hoped that this manual will be the ultimate reference to all laboratory users, not merely as a reading material but most importantly, thatit would be practised. This is because negligence and non-compliance with work regulations in the laboratory will result in undesirable accidents," she said.
"The preparation of this manual is aimed to provide users with updated information on safety regulations in the laboratory."
"Through this manual, she hoped that it will enhance the safety of the workers in the laboratory while at the same time adopting a safe work culture will contribute towards a good quality of research andwill ensure the validity of the data and contribute to a robust research finding," she said.
On the same day, a briefing on occupational safety and health briefing was conducted by Former USM Board Member Professor Datuk Dr. Omar Shawkataly and Senior Lecturer of AMDI Dr. Jahangir Kamaldin.
Professor Datuk Dr. Omar Shawkataly, who is also a USM Chemical Safety Specialist, launched the manual with the motto "Safety By Choice, Not By Chance, Safety Starts With Me".
Also present at the event were Deputy Director of Research and Network Professor Dr. Narazah Mohd Yusoff, Deputy Director of Academic and Student Affairs Prof. Dr. Bakiah Shaharuddin, cluster leaders, lecturers, laboratory managers and laboratory staff.
Teks: Sallehuddin / Foto: Norizan Ishak